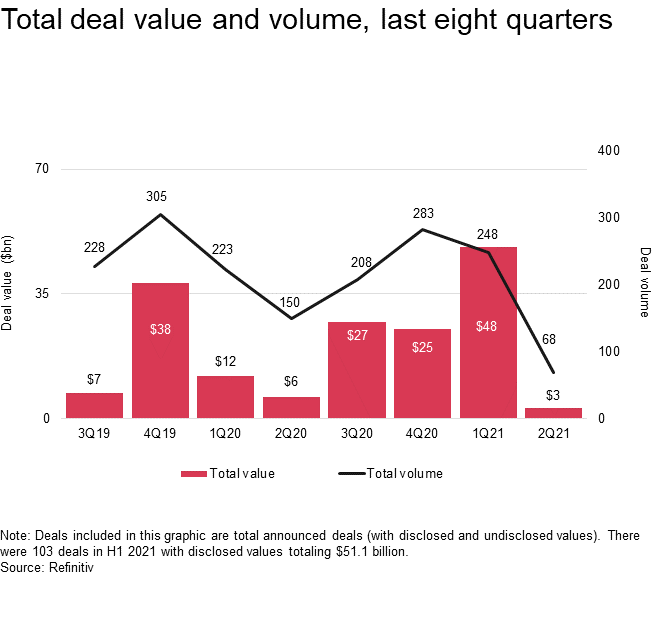 SPACs fueling automotive and new-energy vehicle M&A in 2021
During the first half of 2021, the automotive market continued on its 2020 path of new-energy vehicle (NEV) M&A primarily fueled by special purpose acquisition company (SPAC) transactions. Of the top 10 global M&A deals announced, eight were in the US, comprising four SPAC deals ranging from electric vehicle (EV) manufacturers (design and testing phase) to EV charging solutions. However, with focus and attention on NEV technologies, macroeconomic headwinds have plagued the industry in 2021 with increasing commodity costs (copper, steel, resins, etc.) and a perfect storm of semiconductor supply-chain interruptions causing shortages in chips which could cost the overall global industry more than $100 billion.
Global M&A continues to recover in the first half of 2021 with a total deal value of $51.1 billion — an increase of about 190% over the first half of 2020. While the onset of the pandemic significantly impacted deal value and volume in the first half of 2020, deal volume in the first half of 2021 fell by 15% to 316 deals with an average disclosed deal size of approximately $263 million.
Of the $51.1 billion of deal value, vehicle manufacturers comprised the largest segment with $26.7 billion (or 52%) of total global M&A deal value, primarily due to SPAC deals in NEV. According to Statista, despite 2020 being a sluggish year for the global automobile industry, electric car sales continued to grow. According to the International Energy Agency's "Global EV Outlook," electric passenger car sales climbed by approximately 3 million units to a total global stock of 10.2 million despite the total automobile industry contracting by 16%. We expect these trends to drive further M&A activity in the EV space — from manufacturers (including last-mile commercial vehicles) to battery producers and other players in the EV ecosystem.
---
Automotive deals outlook
The challenges in 2020 due to COVID-19 across the automotive sector caused softness in M&A during the second and third quarters as original equipment manufacturers (OEMs), suppliers and retailers reacted and adapted their businesses to the pandemic (e.g., temporary shutdowns, cost cutting, investigating government programs, etc.). However, M&A quickly picked up in the fourth quarter of 2020 through the first half of 2021. We expect deal activity in the second half of 2021 to continue to expand as we emerge from the pandemic and experience greater access to emerging sources of capital (notably SPACs), investment in NEV and innovation and technology across all automotive sub-sectors. M&A is expected to be both a catalyst and opportunity for organizations to right-size operations to meet new market demands of a post-pandemic world.
---
The nature of capital
SPAC deals continue to surge in the first half of 2021. Four of the top seven deals were SPAC-backed acquisitions of development stage EV manufacturers and EV battery technologies including $11.8 billion for Lucid Motors (EV OEM based in Newark, CA); $3.2 billion for Faraday Future, Inc. (EV start-up OEM in Los Angeles, CA); and $2.6 billion for EVgo Fast Charging (EV battery charging company in Los Angeles, CA). Companies are increasingly looking to invest or co-invest in startups that are developing new technologies for batteries and autonomous driving and we expect this to continue into the second half of 2021 and 2022 as they strive for market adoption of solutions and to make strategic moves to position their technology for success.
"The first half of 2021 was without doubt a unique period in our nation's history as we make strides to break free from the pandemic. The pursuit for sector innovation and advancement has heightened the wave of SPAC activity. This along with a perfect storm of supply chain constraints will continue to spur partnerships, acquisitions and alliances across the sector as new investment opportunities are fueled."— Paul Elie, US automotive deals leader